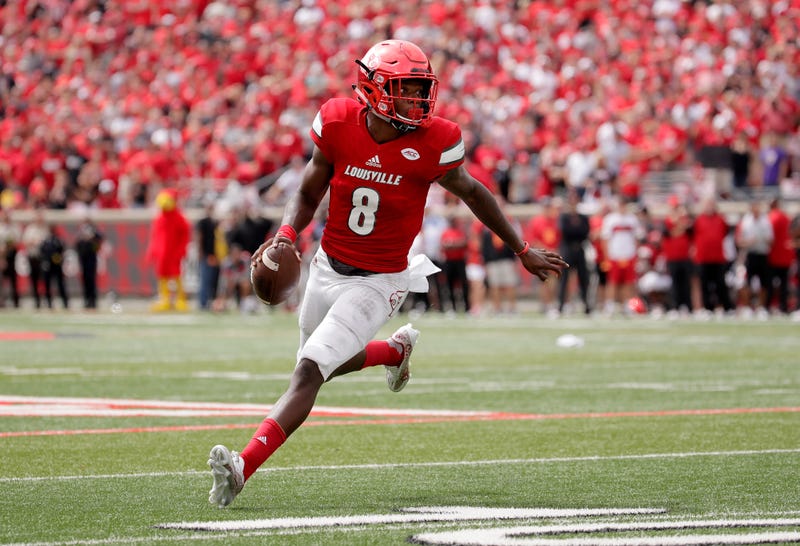 Lamar Jackson seems to be the least talked about high-end prospect the 2018 NFL Draft has to offer.  Make no mistake about it, Lamar Jackson deserves consideration to be picked first overall, or just the first round in general.  The fact he isn't getting much attention is very weird.
Now, the easy comparison here is obviously Michael Vick.  They are both run-heavy Quarterback's, with athleticism through the freaking roof.  At any second Jackson could take off, and run the ball 90 yards to the house.  In college, Mike Vick had one huge knock to his game.  His ability to throw the ball down the field.  Vick lacked the down field accuracy, and power if he were to stand in the pocket.
Now, based on what I have been watching of Jackson it seems as if he is ahead of where Vick was just throwing the ball down the field.  His passes have more zip, and accuracy than anything Vick threw at Virginia Tech.
Looking at Jackson's' stats here I am pleasantly surprised.   Obviously his best year came in 2016, where he threw for 30 TD's, and rushed for another 21.  That's your Quarterback accounting for 51 total touchdowns.  That is insanity right there.  In 2017 his stats dropped………barely.  In a season where he was hyped less than the year before, Lamar came out and balled.  Interestingly enough, he ran for 3 less TD's, AND threw for 3 less TD's than 2016.  However, his total yardage increased for both rushing and passing.  In 2017 he threw for 3,660 yards.  That is up from 3,543 in 2016.  2017 saw Lamar rush for 1,601 yards, which is an improvement from the 1,571 in 2016.
All of those stats, and insane highlights bring us to the main Question: Should the Browns take Lamar Jackson at number 1?  Short answer: No.  I would have no problem with the Browns if they decided they wanted to pick Lamar Jackson.  First overall would be a bit of a reach despite the Heisman Season, highlights, and numbers.  Drafting Lamar Jackson so high would require the Browns to tailor the entire offense to him.  This is fine and all, but the gimmicky read-option/pistol offense seems to only work in spurts in the NFL.  Defenses are just too fast for it.  If you draft Lamar Jackson that high you don't force him to become a pure pocket passer.  That would ruin the kid, and is just not doing his talent justice.  I feel like it's easier to ask a Pro-Style quarterback to run more, than it is to ask a running quarterback to stay in the pocket.
If Dorsey decides Lamar is the guy, by all means draft Lamar Jackson.  I would prefer they tried to trade back into round 1 in the 15-32 area.  They have the draft capital to do so (Thanks Sashi, love you mean it).  But, Browns fans should not sleep on Lamar Jackson.  This dude is fucking electric, and I was shocked to see he virtually matched his Heisman winning season.  Hell, 2017 was probably the better year.  Fewer TD's, but total yardage increased.  Will John Dorsey show some serious balls, and draft Lamar Jackson to be the Browns Quarterback of the future?