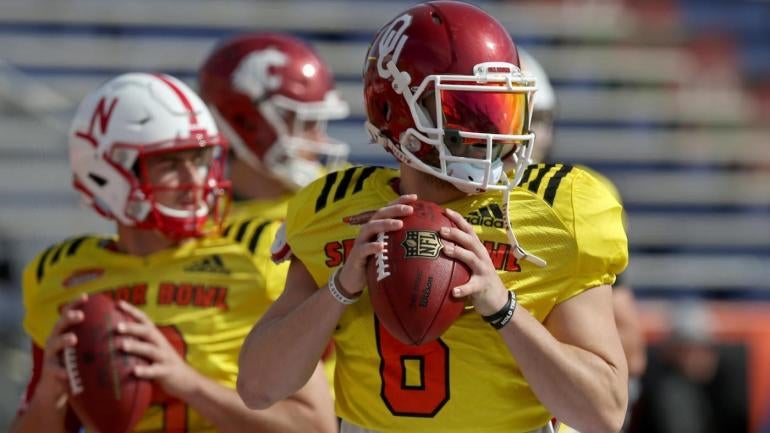 This is a time of year that is just the worst for sports.  Football will be over this time next week.  That means we're stuck with silly Draft hype.  We will be getting slammed with Senior Bowl, Combine, and Pro-Day bullshit until our ears bleed.  Figured now is as good a time as ever to break down the top Quarterbacks in this years draft class.  Let's kick it off with Baker Mayfield, 2018 Heisman Trophy Winner.  Is he qualified to be selected number 1 overall?
There is something about this kid, man.  I've said it a few times, but Mayfield is really the only Quarterback that intrigues me to a high degree.  Darnold, Rosen, and Allen just don't move the needle for me.  Maybe it is because those guys are more of the "Prototype" Pro Quarterback.  Tall pocket passers with good arm-strength.  Mayfield is anything but tall.  Mayfield stands at 6 feet tall, and 216 ponds.  Certainly not built like most Franchise Quarterbacks.
I certainly understand the risks with Mayfield going in.  Much like Johnny Manziel, Mayfield took the College Football world by storm with electrifying play.  Much like Manziel, Baker is considered shorter than the ideal NFL Quarterback, but still electrifies.  They both have had issues with off-the-field issues in the past as well.  With all the similarities, there are differences to point out.
The first major difference is the way in which Johnny and Mayfield ran their offense.  Johnny was running a college based, read-option offense.  It involved a lot of Johnny improvising, and chucking the ball up to Mike Evans.  Evans was a man playing among boys at that time.
Taking a look at the highlights, it is pretty clear how simple Johnny's offense was at A&M.  He was a one read and run guy.  He hardly ever stood in the pocket, and made his progressions.  At the slightest bit of pressure, or sign the play was breaking down Johnny took off running.  In the This lead to many highlight reel plays in college, as in the open-field Johnny was so hard to stop.  The Texas A&M offense set him up to fail in the NFL.  It was too improvisational, and he had an NFL ready Wide-Out at his disposal in Mike Evans.
Johnny in the NFL was nothing short of a disaster, particularly outside of Football. The second his name was announced, his time in Cleveland was a media circus.  On-field wasn't great in 2014. Despite what many will tell you, 2015 Johnny was mostly good on the field.  The only real disaster performance came in his first career start in 2014.
After a tough start in 2014, and entering rehab; Johnny came back strong in 2015. Despite having next to no weapons, or belief from his coaches, Johnny put up solid numbers in his first chunk of playing time in the NFL. He finished 2015 with 9 games played.  He threw for 1,500 yards, 7 touchdowns, and 5 interceptions.  He added 230 rushing yards on 37 attempts.  Johnny's off-field issues took off during the middle of the 2015 campaign, and got so bad he was released in March of 2016.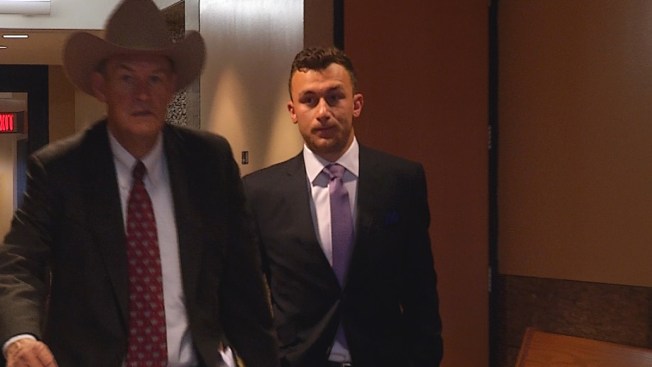 With Baker displaying tamer, albeit similar off-field concerns you would think the Browns would scratch him off their QB Short-list ASAP.  Based off the sound bites from this past Weekend's Senior Bowl, Browns GM John Dorsey is intrigued with the Oklahoma Signal Caller, and maybe enough to take him with the number 1 overall draft selection this April.
First things first, Baker Mayfield is nearly a spitting image of what Johnny Manziel was in some ways.  He's a fiery competitor, who isn't shy with words or actions.  Manziel had his patented "Money Manziel Sign", and Mayfield stuck his teams flag in the middle of Ohio State's field, which got a lot of heat for reasons unknown.  Grow up you fucking pussies.  Oh, and he's grabbed his junk on TV clear as day.
To the naked eye, Manziel and Mayfield look like one in the same.  Mayfield runs a similar offense to what A&M was running in 2012-2013.  It is a lot of read option, run-pass option type plays.  While the offense is similar, Mayfield plays the game completely different than Manziel did.  He has balls.  By balls, I mean he doesn't take off at the slightest sign of trouble, or his number 1 read is taken away.
Take a look at his 2018 Rose Bowl Highlights.  Mayfield expresses the pocket presence and poise that Johnny never had.  You can see on multiple big plays, Mayfield is in the pocket moving his eyes downfield, and eventually hitting his 3rd/4th option for a big gain.  He doesn't rely on scampering through College Linebackers once the play breaks down.  He does run, but it feels like he runs more on design, than improvisation.
Baker has done it these past two years with a group of JAGS at Wide-Receiver.  I think this has actually helped himself.  He hasn't had the downfield options that Johnny did, so he's had to develop better deep throw accuracy.  I feel like the placement on his deeper throws is far superior to Manziel.  Manziel had the luxury of turning his head and throwing it as far as possible in the direction of Mike Evans.
These are the career college stats for both Johnny, and Baker.  Those who have been saying these two are a cut from the same cloth are just wrong.  Johnny caught fire in 2012, and carried it into 2013.  Baker has consistently performed at a high level.  With each year, you can see Baker's stats grow.  The most impressive growth I see is, Average Yards per Attempt.  Baker's grew from 10.4. to 12.3, and finally 12.9.  It shows that he developed into a quality downfield passer as he learned the college game.  Manziel's Average Yards per Attempt was, 8.8 in 2012, and 10 in 2013.  Not even in the same ballpark as Mayfield.  It goes to show you how different they really are.
Should the Browns take Mayfield with the number 1 overall pick this fall?  I think he is as good an option as anyone to be drafted by the Browns this spring.  There is is something about the kid that makes me so intrigued.  He has the desire, and drive to lead his team to victory.  He isn't afraid of anyone, and it shows on the field.  Is he cocky?  He absolutely is, but you can see how much he motivates his teammates on the field.  Baker has had an off-field incident, but it hasn't plagued him nearly as much as Manziel's issues.  Everything about Mayfield leads me to believe he really has the motivational drive in him, whereas the confidence Manziel displayed was more or less a front.
Mayfield has even expressed desire in being the Qaurterback to turn things around in Cleveland (Hey Josh Rosen, he ain't scared ya fucking pussy). Whether this is just Pre-Draft bull-shit being spewed is yet to be determined.
Will Baker Mayfield be the Browns Quarterback in the Future when they hit the podium in April?   We'll see…