For those living under a rock today, Seth Wickersham released his magnum opus on ESPN this morning. A whole big piece on how there is trouble in paradise because all the Patriots do is win and keep everything shut air tight.  I know this may seem shocking as ESPN was the outlet that pushed the 'Deflategate' agenda way past where it should have been.
But according to interviews with more than a dozen New England staffers, executives, players and league sources with knowledge of the team's inner workings, the three most powerful people in the franchise — Belichick, Brady and owner Robert Kraft — have had serious disagreements.
I went into this with an open mind because that actually sounds plausible. All three of the powers in New England are human, whether they have reached an extraordinary amount of success or not. It only makes sense from time to time that there may be a rift or someone thinks they deserve more credit — it happens. I read this article and considered believing it for a few minutes. It was well-written, made some logical points, and described scenarios that very well can happen.
Then I remembered who this is from, and the timing of it. ESPN published this right before the playoffs. Sketchy right? What time did they post this? 1 AM — despite reports yesterday that they were publishing this at 8 AM. What else came out in the middle of the night when nobody else was watching? Deflategate. The fact that there were reports of this coming up and the internet was buzzing about it was exactly what ESPN wanted with this article.
I believed it for a long time while reading the piece — but this is wrong and there's really no hot takes to take from it.
Honestly, I do believe that there is some rift between Belichick and Brady. Brady loves his weird guru Chinese medicine scientist pliability coach — fine. Brady's a weird dude anyway. Guerrero is exactly the type of guy that Belichick hates. Some guy who thinks oils and scents will heal a player or some shit like that. Brady and Belichick aren't best friends, they have a coach-player relationship. There is a massive amount of respect between the two of them as there should be.
The part about Garoppolo? It was clear that the organization wanted to keep him — why wouldn't you? The problem was that he was a free agent. According to the article, they offered him 4 years with 16/17 mil per year. A great contract for a backup and clearly shows the Pats had him in their plans. The problem was the when. Jimmy G is young and wanted to start — can't hate on that. They were unable to come to an agreement. The Pats had to move him and Belichick gave a friendly discount to San Franscisco. Not much to see here. You can't move on from Brady right now because he wants to keep playing and is doing so at a MVP caliber level.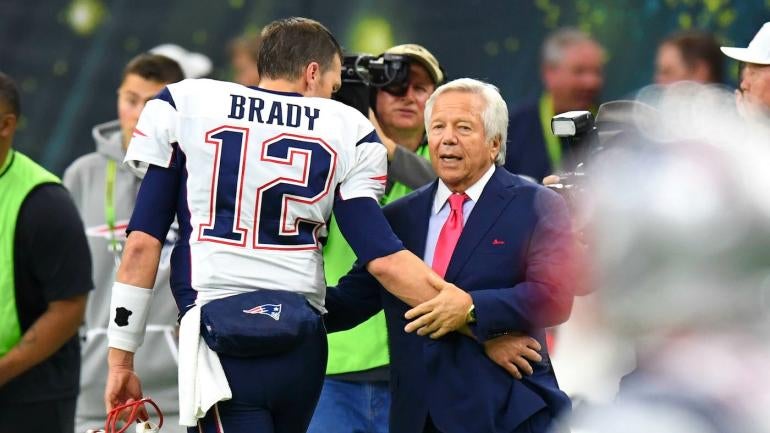 Brady, though, seemed liberated. Kraft hugged Brady when he saw him that week, in full view of teammates. A few days later during practice, some players and staffers noticed that Brady seemed especially excited, hollering and cajoling.
There most likely to some truth to this part because Brady was probably relieved that he doesn't have competition for him to finish up his career in New England. It's natural to be a bit happy — he's allowed to be happy for Jimmy to get his shot across the country too. At the end of the day, Jimmy G was competition for Brady's spot next year and it's human to have some relief that he wouldn't have to be competing for his spot next year.
We even heard from Don Yee, Tom Brady's agent —
"I don't really know what to say — it's tough to have a response since it didn't appear to me to have one on-the-record quote," Yee said. "All I can suggest is don't believe everything you read."
He's right. Not a single quote from someone inside the organization. This entire sting piece comes off hearsay from Seth Wickersham. Not Adam Schefter, not Mike Reiss, hell not even Felger. This is a joke and just shows the level ESPN, the "worldwide leader" is willing to go.
31 teams in the NFL would kill to be in the Patriots' situation. If this is the biggest issue going on, I think that's fine. Through this whole season of "controversy," the Patriots managed to casually go 13-3 and wrap up the 1 seed in the AFC on the back of a huge win in Pittsburgh. Nothing will come out of this and I'm sure the next media day — not Brady, Belichick, or Kraft will say a damn thing about the report. Why? Because that's what the Patriots do. They'll continue to win and keep everything in-house as it should be. Is there a problem between the three of them? I'm sure they don't agree at times but they all have one mutual goal and that's success for the New England Patriots franchise. This article only showed that ESPN has never quit their mission to undermine the Patriots. It hasn't worked in the past and it won't work in the future. Brady and Belichick will both be back next year.