Last night something amazing happened in Chicago during the Blackhawks vs. Jets clash.   It was one of those moments that make everyone realize why we love sports, it was just the best.  The Blackhawks are down a bunch of goalies due to injury this season, so they signed 37 year old Scott Foster to be the teams EBUG (Emergency Backup Goalie)
They were down so many goalies, the starter (Collin Delia) was making his own NHL debut.   A little background on Scott, he is an accountant that plays in a Men's League nightly.  It is not uncommon for a Men's League Goalie to practice almost daily with an NHL team.  Sometimes, you're farm team is too far away to call any one up, and an average Joe gets to step in.  Scott has been the teams Emergency Backup before, but watches the games from the Press Box, and leaves right after the game has concluded.  Occasionally they have to suit up, and park their ass on the bench to sit there and be the backup.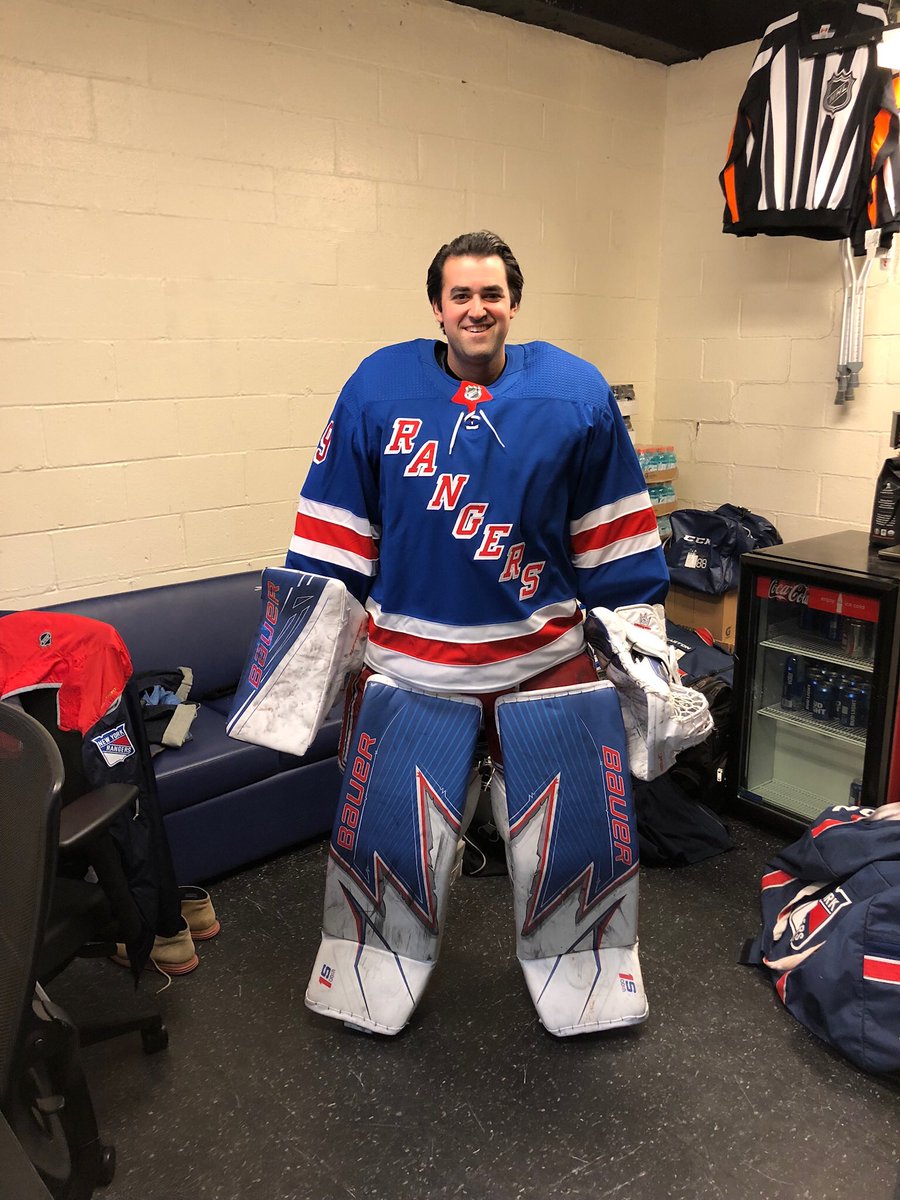 All these guys look the part, but none of them really get to play.  Once in awhile, you'll see one get in for the last face-off.  Last night with about 13 minutes left to go in the third period, Delia had to leave the game with cramps.  In Scott Foster, Accountant.  With the Hawks leading 6-2 Foster had to come int the game, and close it down.  Close it down he did.  He stopped all 7 Winnipeg shot attempts keeping the 4 goal Hawk lead in tact.   He will retire with the NHL's best all-time save percentage of 1000.  The guy will go down as an all time great EBUG.
I mean this is just fucking awesome.  This every single Hockey Goalie's dream.  Stopping shots from beer leaguers they picture themselves shutting down Sidney Crosby.  Foster was able to live a dream of millions of hockey players out there.  Here's to average Joe's out there!  The Blackhawk regulars really seemed like they embraced the moment, and really rallied with their new teammate.  They even gave him "The Belt" a wrestling belt that the players pass around after each win.   In this dark season for Chicago this is a moment I'm sure they will never forget.  Again, this is why I love sports.  Look at his fucking Men's League teammates watching him play!
"I think I am just hitting my prime" -Beauty.