It's been awhile since we last discussed puck.  Last evening, the Boston Bruins lost their third game in a row, all within the Atlantic Division (Detroit, Florida, Tampa Bay).  They are still holding onto a playoff spot right now, as they are 14-10-4  good enough for 32 points.  Problem is, the Atlantic Division sports the three best teams in the Eastern Conference in the Buffalo Sabres, Toronto Maple Leafs, and Tampa Bay Lightning.  The Bruins are going to have to push for a Wildcard playoff spot, and why is that you might ask?
Easy.  Lack of talent.  This same time last year, we were watching the beginning of a magical run for the Bruins, which skyrocketed them up to the top of the East.  They had a crop of young guys come up through the system, and contribute right away.  Danton Heinen, Jake DeBrusk, Charlie McAvoy, Ryan Donato, and Anders Bjork all got time with the big club, and performed well.  Bjork is the only exception as an injury derailed most of his season.
First culprit, Danton Heinen.  Heinen amassed 47 points in his Rookie season, which is VERY good.  This season he has regressed badly with only 5 points total.  Heinen's game is often very quiet, so when he's not scoring, you can't even recall if he even took a shift.   He is a very soft player, who often gets pushed around.  Although I saw a lot of good things from him last season, his decline started in February of last year.  He's never really recovered.  There were trade rumblings with his name last Summer, which probably should have been investigated further.
Ryan Donato was a late season addition last year, coming out of Harvard and the U.S. Development Program.  Donato contributed right away in 2018, as he managed 9 points in 12 Regular Season games with the Bruins.  He looked ready to slot into the Top 6 no questions asked.  He was forced into the Press-box during the Postseason, simply because it was just too soon to expect him to be ready for Playoff Hockey.  When the Bruins became strapped for secondary scoring, he was inserted into the Lineup as desperation measure.  He slotted into 3 playoff games Registering 0 goals, 0 assists, and 0 total points.  This season, Ryan has not only stalled, but it looks like he has regressed.  He's managed a measly 2 goals in 15 games with the Bruins this year.  He's been so bad he was sent down to Providence for a 10 game stint.  It's a shame, because he was supposed to be an addition to the Top 6.   Much like Heinen
Anders Bjork is another skilled forward, who was supposed to slot into the Top 6 eventually in his time in Boston.  Bjork is a small winger, who is seen as pure goal scorer.  In 30 games with the Bruins in 2017, Bjork netted 12 total points.  He wasn't that great, but was slowly coming along as a rookie.  Eventually he was sent to Providence for development, where a shoulder injury ended his season early.  Fully healthy this year, Bjork has regressed.  With only 1 goal, and 3 total points after 20 games, Bjork was sent to Providence for development.  Not a good sign for him, considering the Bruins only employ three forwards who can score.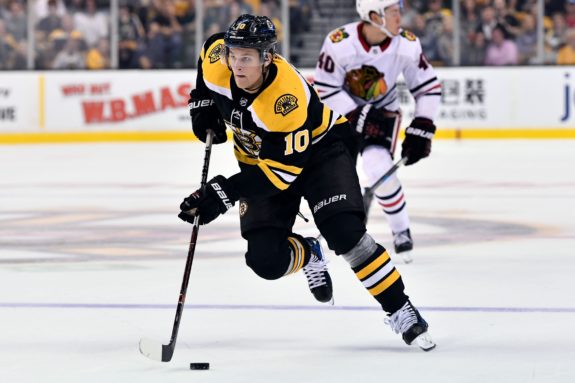 Under-performing prospects is severely hurting the Bruins, as they do not have a good forwards outside of their Top Line. Marchand, Bergeron, and Pastrnak is the best line in hockey, and can literally score at will.  It is the main reason the Bruins are in a playoff position at this point.  That singular line.  Other than that, there really is nothing.   It is a big problem, because as always the Bruins are banged up.  Almost all of their Defensemen have spent time on IR this year.  McAvoy, Chara, Krug, and Kevan Miller have all been out for an extended period of time.  In addition, Patrice Bergeron has been out for the past month.  So, now the first line has been hamstrung.  Colby Cave (whom I despise) has been Centering the Top Line.   Cave is an Un-Drafted Free Agent, and it is for a reason.  Shockingly he has only 2 lousy assists from his 7 games in Boston.  Dude sucks.  Yet he gets to Center Pastrnak and Marchand at will.
While there is decent skill in David Krejci and Jake DeBrusk there isn't anything in terms of talent in the remainder of the Forward Group.  It is a plethora of 4th liners, whom they hope will somehow explode into talented, corner picking snipers.  They even claimed another fucking scrub on waivers yesterday:
BOOOOOOOOO.  This guy is nothing but a JAG with speed, whom the Bruins are hoping to be a stopgap.  The Bruins have the Fourth Line covered.  They've got $6 million dollar, David Backes roaming the fourth line Right Wing, they've got Chris Wagner and his 3 points, they got Sean Kuraly and his 4 points, and they got Joakim Nordstrom with his scorching 5 points.  Nordstrom has been the hand-chosen garbage Bruins player that gets Top Line minutes.   There is one every year, Riley Nash, Tim Schaller, Tommy Wingels, and on and on.  The struggles with this team are all about talent.  They do not have it.  Their highest paid player (David Krejci) scored his 3rd goal last night.  It was his 1st in 18 games.  Unacceptable.
The Bruins are at a Crossroads right now.  They have an aging core of players from the old regime, and overvalued prospects.  This next group of games is crucial for their season.  Toronto and Ottawa back-to-back this weekend, Pittsburgh, Buffalo, and Montreal next Weekend, with the Arizona Coyotes in between.  More losses than wins out of this stretch would have me contemplating major changes.  The longer the struggles go on, the more I think it is a talent issue.  The kids who were so highly touted, are simply not very good.
Don Sweeney should be doing his damnedest to trade off pieces that weigh the team down.  First two I would trade being Krejci and Backes.  Going to be near impossible to do so, as they both suck, are old, and make too much money.   Backes has 5 points this year and has 3 years at $6 million per year left on his deal.  Not many teams are going to be willing to take him.  There is a chance a struggling team would take him on simply to reach the Salary Cap Floor, or they'll take on Backes to get another asset.  The Bruins could also retain money from his Salary.  They could trade him to a playoff contender and split his $6 million with the team they are trading him to.  More incentive to acquire the player, if his cap hit is half what it could be.
Krejci will have more suitors on the trade front, but he has a massive salary and No-Trade Clause to deal with.  He would have to be asked to waive it in order to be traded.  He's also got 3 more years at $7.25 million per year.   Krejci has more upside, especially for contenders looking for depth heading into the playoffs, but again the Bruins would maybe have to eat some of his Salary, or even toss in a prospect to get anything of value in return.
Third guy is Tuuka Rask.  Its time to move on from Rask.  He has had yet another roller-coaster year, starting out really poorly and being forced to take a Leave of Absence.  Since he has come back, he has been rock solid.  If he keeps playing well, some Playoff team with weak Goaltending would potentially spend some assets to add him at the Trade Deadline. Similar to the other two stiffs Rask has 3 years at $7 million per left on his contract.  Same workarounds would have to apply.
It's not over quite yet for the Bruins, who are just starting to get healthy on Defense, and will be getting Bergeron back soon.  They very well could continue to maintain their position in the playoff standing.  If they continue to slip, I just don't think they have the talent to climb out of it.  Hopefully I am wrong about this and the kids go on tear here to calm everyone's nerves.  With each passing game, I am starting to think it may be time for the Bruins to pack up shop on the 2019 season.  There is no other options within the Organization to help remedy the lack of scoring.  Big problem, because they had a chance to draft Offensive Super-Stars. 2015 had the Bruins drafting three times in a row.  In what was the deepest draft in my entire life, Don Sweeney reached on two of three of those picks.  13 was Zboril who got called up this year when every single Bruins Defenseman was hurt.  He was not even close to being ready, and it's his 3rd year since being drafted.  Un-Drafted Connor Clifton looked better in his Call-Up.    Clifton looked pretty awful in his stay.
Zach Senyshyn hasn't even earned a call up. Jake DeBrusk is a nice player. He is able to provide that coveted secondary scoring, is ballsy, and plays with energy. All that's great, but those two whiffs. That's a slap in the face. There is elite talent at forward everywhere around where the Bruins selected. Two stiffs, and a solid NHL player. You pick three times in a row you better hit on two of three. The Bruins whiffed.
Let's hope this upcoming week isn't the death of the Bruins 2019 season, and beyond.