It's been a while since we talked Bruins, even longer since we talked at all.  We are smack dab in the middle of the NHL Off-Season.  Last week started it all off with the NHL Entry Draft.  The Buffalo Sabres finally caught a damn break, and won the Draft Lottery.  They used the number 1 pick on Swedish Defenseman Rasmus Dahlin.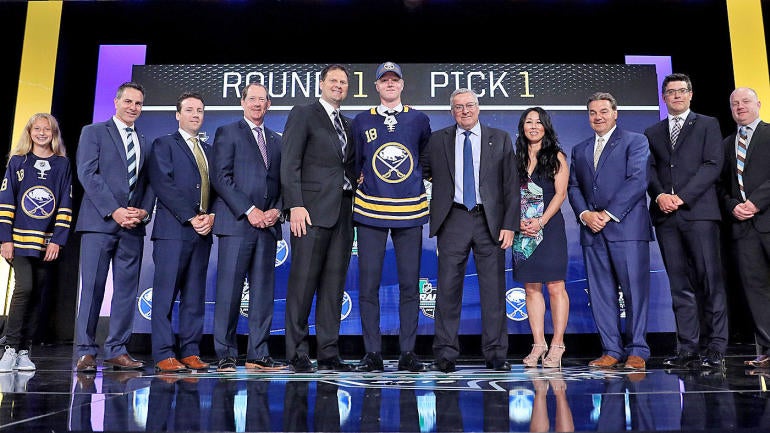 I don't want to focus on the NHL draft, but just know this kid is going to dominate.  He's a top end Defenseman, who can play at an elite level in both ends.  It might take time to develop, but he will be amazing. Buffalo has a plethora of top-end young talent.   Eichel, Ristolainen, Sam Reinhart, Ryan O'Reilly, and now Dahlin.  Don't forget Casey Mittlestadt another top end prospect.  Buffalo, headed in the right direction for eternity.
Now, to the real story here.  John Tavares, the Number 1 overall selection in the 2009 NHL draft is set to become an Unrestricted Free Agent on July 1st.  For much of his time in Long Island and Brooklyn the Isles have sucked.  He's only made the playoffs three times in 9 total seasons.  He's only made it to the second round once, and his Isles were bounced in 5 games.  All of that doesn't matter.  John Tavares is a fantastic hockey player.  He's lived up to every bit of the number 1 overall tag. 
Stats speak from themselves.  4-time 30 goal scorer, scored 28 goals in the lockout shortened season, and even put up a solid 6g-5a-11pts in his only half decent run with the Islanders.  To go along with the goal scoring ability, John is not as good but in the same ballpark as Patrice Bergeron defensively, and in the Face-off Circle.  This is what Baseball weenies would call a five tool player.
2018 was yet another disastrous season on the Ice for the Islanders.  They failed to qualify for the postseason, General Manager Garth Snow stepped down, and Head Coach Doug Weight was axed.  Dusty fossil, Lou Lamorillo was hired as GM to replace Snow.  Lamorillo was the original GM of the New Jersey Devils, and most recently helped rebuild in Toronto (It was done for him by the time he got there).   Most recently, Barry Trotz was named the teams new Head Coach just a week after winning the cup with the Washington Capitals.
Those hires are great for the fans as it gives them hope.  For me, Lamorillo didn't do dick in Toronto (how hard is it to draft Auston Matthews?).  Most other pieces were in place for him, but he still had massive holes along the Blueline that he never filled.  For a playoff team, that d corps up in Toronto was just horrendous.  In New Jersey, Lamorillo built a juggernaut that competed for cups from the mid 90's to mid 00's.  After that?  Mediocrity.  Since 2003 the Devils have been mediocre at best.  They made a cup run in 2012, but lost in 5 games to the LA Kings.  From that point on, the Devils iced some of the most boring, untalented hockey teams I have ever seen.  Overall Lou will bring some stability to the Isles front office, and he certainly won't be worse than Mike Millbury, or Garth Snow.  I just don't know that Lou has his fastball anymore.   These two additions certainly would show Tavares that the Islanders mean business in turning this thing around, but that didn't stop him from using this week to listen to a pitch from 5 teams.  I hadn't been keeping tabs on it, as I just figured why on earth would he come to Boston?  The Bruins ownership are cheap pricks, they NEVER sign big money guys.
Sure enough, Monday Morning saw the Bruins, San Jose Sharks, Toronto Maple Leaves, Tampa Bay Lightning, and New York Islanders all be listed as teams he would meet with in LA.  At first, I said, "No Cap room" WRONG.  Tavares will command probably the second highest per year salary in the NHL.  McDavid makes $12.5 million, and Tavares would command around $11.  The Bruins have $12 million free at this very moment, out they would be able to sign Tavares and NOT be forced into making any moves if they want to. This is unlikely, as they would definitely have to move on from a hefty contract like David Krejci, David Backes, or both. They have some young guns that will need to be re-signed after their rookie deals (McAvoy, Donato, BeBrusk, Heinen).
This a good sign for Bruins fans, even though Jimmy Murphy is a raging tool bag, a few other outlets have reported the same.
Now, do I think John Tavares will sign with the Boston Bruins? Probably not. John is likely just doing his due diligence while mulling the extension with the Islanders. But I do think if he were to leave Long Island, the Bruins have a damn good shot.  The Bruins have a perfect mix of veteran talent under contract for multiple seasons, and young up and coming pieces that should help the Bruins contend for many years.  You got Marchand locked up for 8 years at only $6 million per season, Pastrnak is locked up for 5 more years at $6.6 million, and Bergeron is locked in for 4 years at $6.8.  The key pieces would not have to be moved.  Sure some maneuvering would need to be done, but that is more than ok.
Now we wait.