July 1st came and went in the NHL, and it was quite an eventful week or so leading up with John Tavares exploring the open market.  The Bruins made their pitch to the prized Center, but he decided to go home to Toronto.  Good for him getting to live a childhood dream.  Counting down the days until the Toronto Media fakes a daily trip to hot dog cart, like they did with Phil Kessel.  The Leafs haven't won a cup since the fucking 60's, yet they have the most obnoxious fans, and media coverage.  The Bruins have 2-3 beat writers covering the team, Toronto has around 15.  There is an extreme amount of pressure from the fans, and media up there.  It almost never works out, and I cannot wait for the stories, and or turmoil that come with the Toronto Maple Leafs.
As for the Isles, I really feel for those fans.  They haven't had much to cheer about since the clock struck 1990.  I wouldn't say they were the worst team in the NHL from 1990-2018, but they are right up there.  I understand the fans anger and frustration with John.  I would be fuming if a player like that left the Bruins, especially after John repeatedly reinforced his love for the Island, and the Organization with the media.  This seems to be a huge source of anger for the Islander fans.  "HE SAID HE LOVED IT HERE,  HE WAS LYING!!!!!!!!".  No shit morons, he's not going to say "We're a fucking joke, Garth Snow is incompetent, Charles Wang moved us off the Island, in 2019 we'll play games in Brooklyn and Long Island.  I want to leave here I hate it".  The anger shouldn't be directed at John, he gave 9 seasons to a joke of a franchise.   You forced Corey Conacher on his line for 15 games in 2014: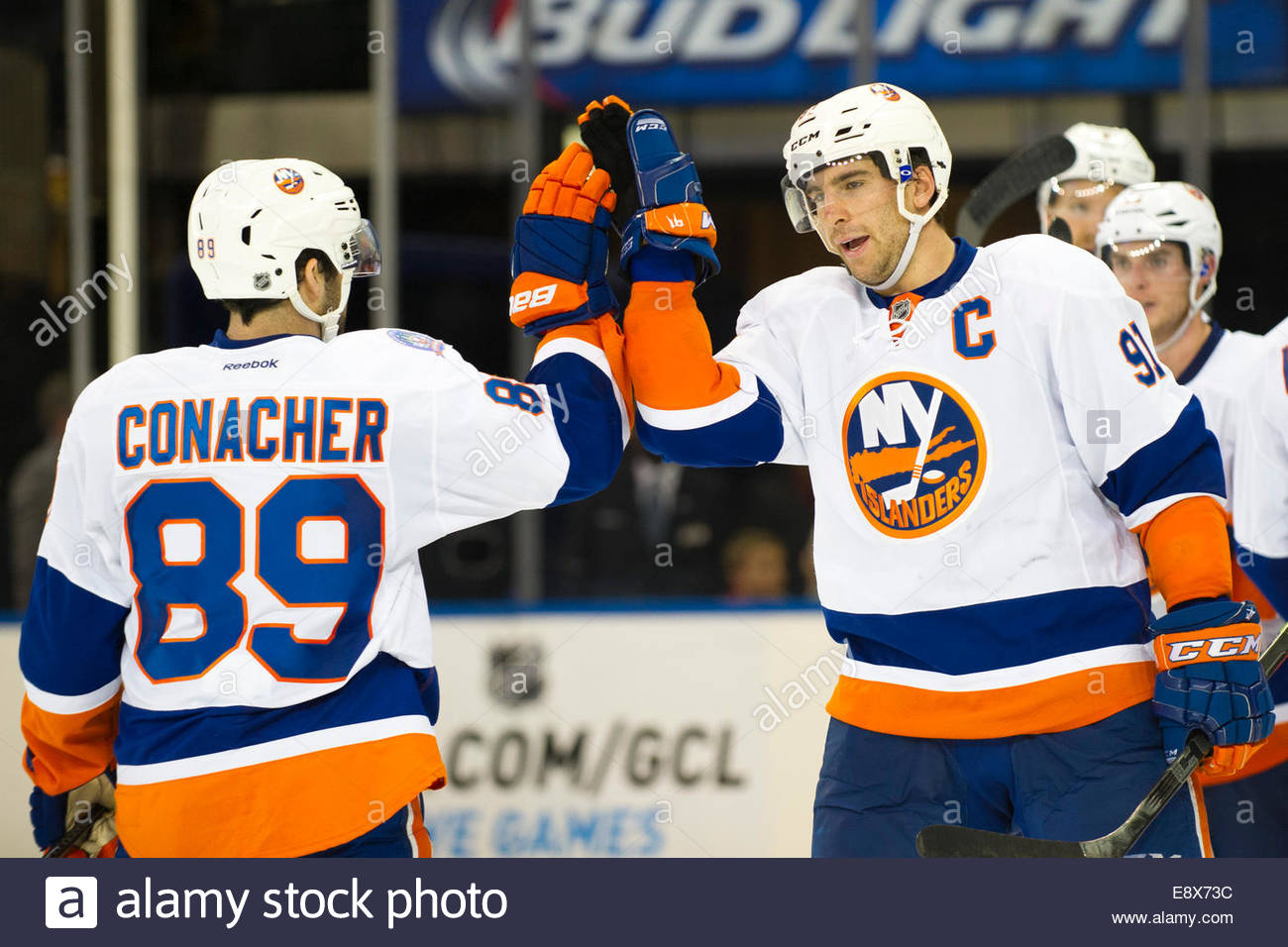 John Tavares earned $16 million dollars from the Colorado Avalanche for career Journeyman,  P.A. Parenteau.  In 2010-11 Parenteau was brought onto Long Island after only playing 27 total NHL games in nearly 7 full seasons.
Boom goes the dynamite.  These two seasons riding on JT's hip was parlayed into a 4 year $16 million dollar contract with Colorado in 2013.  He lasted only 2 seasons out of the 4 he signed for, was traded to Montreal, and was bought out heading into the final year of his contract.  He's bounced around team to team ever since, and he announced his retirement just a few weeks ago.
If crappy/journeyman linemates weren't enough, the Islanders don't have a home.  In 2015 the Islanders left their long-time home, Nassau Coliseum for the Barclay's Center in Brooklyn.  The arena was a complete, and utter dump at the time they left, but it was still a great arena.  The fans were fucking nuts when the Islanders were actually good.  But the team couldn't get approval for a new Arena in Nassau.  As we know this move has sucked the life out of the Islanders, and their loyal fans.  The Barclay's Center in Brooklyn is a joke.
To make matters worse, the Barclay's Center kicked the Islanders out!  Leaving them homeless for the 2018-2019 season.  An agreement was eventually set where the Islanders would split games between Brooklyn and the (renovated?) Nassau Coliseum for the next THREE seasons.  What a joke.  An NHL franchise without a home arena.  Last I checked Air Canada Centre is the Leafs home, and will likely be the Leafs home for the foreseeable future.   These are just a few of the reasons why I believe Tavares left.  He's played with many crappy players, and the organization overall is a mess.  Sure they hired Lou Lamorillo and Barry Trotz this off-season, but too little too late.  Shouldn't have waited to make these types of moves until the last minute.  They had 9 seasons to hire a competent GM, coach, and have a stable fucking Arena.  Sooner or later enough is enough.  I just feel like Islanders fans are miss-directing their anger, this is 100% on the organization.
Look for the Islanders to probably suck again this year (They'd have a lot of work to do if Tavares stayed).  They have the rookie of the year winner in Mat Barzal.  This kid has all the skill in the world, and was a great compliment to John Tavares as their second line center.  Now he'll have to be the guy.  A lot of pressure for the kid, and I hope it's not too soon for him to take the leap.  While he won rookie of the year,  he largely was playing behind Tavares with and against worse competition.  Doesn't make him any less nasty, but it is a factor.  John takes the best defenders, and forwards from the opposition night in night out.
There are a few decent pieces in the forward group from which to build on despite no JT.  Josh Bailey is coming off a career year in which he registered 71 points on 18 goals, and 53 assists.
Anders Lee is another Islander forward coming off a career year.  He registered 40 goals and 22 assists for 62 total points.  He had himself a fucking year, despite the team going down the crapper during the second half of the season.
These are the forwards they'll have to build around.  Obviously, no one is going to replace JT right away, but these are the guys that I would build my team around.  It'll take a miracle to find another Center in the ilk of John Tavares.  That would likely have to come through the NHL Draft.  Maybe Barzal fills the shoes, but it is a lot of pressure.  Part of me see's the speedy, shifty, smaller Barzal as a perfect compliment to a big bruising two way center like Tavares.  I feel like Barzal is destined to be a really fucking good second line center.  Time will tell.
The NHL Draft, at least the beginning of it saw the Islanders "Win the draft".  They had two first round selections (11 and 12).  They drafted Oliver Wahlstrom from the US National Development Program.  Bruins fans might actually remember this dude:
With the 12th pick they took Noah Dobson, a Defenseman from the Quebec Major Junior Hockey League.  Don't know too much about the kid, but everything I am reading sounds good.  He's fairly tall at 6'3, is a good skater, and is productive at both ends of the ice.  Might need to put on some weight to deal with the NHL, as he is only 176 lbs.
It is going to be a long year for the Islanders, but I thought they would still suck with Tavares.  They have a poor Defense Corps (Boychuk, De Haan, Seidenberg LOL, Pelech, Pulock, Mayfield, Aho, Etc.)  Bunch of JAGS.  They have some solid puck movers in Pulock and De Haan, but De Haan has two feet out the door already.  Boychuk is being paid as a top pairing Defenseman, but he's a number 3 Defenseman at best.  Their starting goalie, Jaroslav Halak, who is average at best, left the Islanders for Boston to be Tuukka Rask's backup on July 1st.  A lot of holes to fill on this roster, and not enough time.  Lets hope the John Tavares decision doesn't push this organization down a deeper, darker hole.  A team with such GORGEOUS uniforms, and colors cannot be this bad.
Pray for the Islanders.