After the month's and month's of crap spewing every which way regarding the Browns draft, we finally got some answers.  With the 1st overall pick in the 2018 NFL Draft, The Cleveland Browns Selected, Baker Mayfield.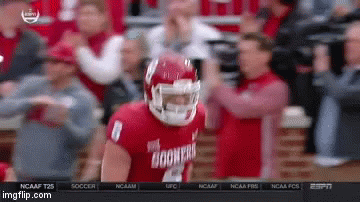 The whole lead up to the draft almost all of the pundits had the Browns selecting Darnold first overall.   Darnold was my preferred option, and the more I look back, the more I believe that had to do with him being the cardboard cutout of an NFL Starting Quarterback.  Despite everything, Baker was always in the back of my mind to be picked.  He intrigued me the most.   This kid is a winner.  He's not putting up a front like, Johnny Manziel.  He will come in and work his ass off to beat Tyrod Taylor.  That has always been what Baker Mayfield does.  Naturally, the Browns got absolutely ripped for taking him.  Fans were upset that the golden boy from USC was not selected, and the national perception is that the Browns just picked Johnny Manziel again.  It is simply not true.  There is 1 similarity between the two, and that is their both dicks on the field.  Other than that, they are two completely different football players.
Baker comes into the NFL having been one of College Football's most productive players ever.  The above PFF scores don't mean dick really, but it helps us compare him to everyone else.  A recent article on SB Nation really highlights the main differences between all of this years top QB prospects,
"In college:
Josh Allen was a tall mediocrity.
Sam Darnold coughed up gobs and gobs of turnovers.
Lamar Jackson had a slight physique and got hit (and sacked) a lot.
Josh Rosen got crushed a lot and never had a chance to shine because of iffy line play and a bad running game, not that he can't become a great NFL QB himself.
The knock on Mayfield is he's … a little short, I guess? He's 6'1, which is on the smaller side for a quarterback, but he still had fewer passes swatted at the line than the 6'5 Allen did." ( Alex Kirshner-SB Nation) 
I knew all of this going in with Mayfield.  I knew how dominant he was in college, and I still didn't think the Browns would even consider him.  Public opinion of the team is pretty poor obviously, and I just thought the Haslam's would not have drafted Mayfield after what happened with Johnny Football. That public perception is wrong, and I am glad the team is ignoring it.
On field, Baker Mayfield is more than capable of being the Cleveland Browns franchise quarterback.  He's deadly accurate.  In his three years at Oklahoma Mayfield had finished with 68.1, 70.9, and 70.5 completion percentage.  That is at 69% on average.  That is insanely good for a 6 ft. 1 Quarterback.  In terms of play style, Mayfield excels within the pocket.  He is going go through his progressions, and fire the ball downfield.  The scrambling you see is mostly a fail safe, not his first instinct.  He would be decent in designed runs, as he is used to the Run-Pass Option offense.  It is not something you will catch him doing a lot of, as he is a gunslinger.
So, Browns fans quit bitching about Baker Mayfield being picked over Darnold.  This guy is money, and is going own being QB one of the Cleveland Browns.  He is going to put his balls on the line for his teammates, and when we eventually see him on the field it will be because he earned it.  Baker's always earned it.
Fourth overall was also a pick the Browns got unanimously ripped for.  I on the other hand was doing cartwheels.  With Bradley Chubb on the board, the Browns opted to pick the highest ranked corner in the draft.  It woulda sent me up a fucking wall if the Browns pissed away a draft pick on another edge rusher.  Currently our two edge guys are Myles Garrett, and Emmanuel Ogbah.  Ogbah is less known, but is only entering his third season.  Last season Ogbah played in only 10 games due to injury, and was tied for the team lead in sacks with 4.  He played in 16 games in 2016, and finished with 5.5 total sacks.  What exactly is wrong with Emmanuel Ogbah?   He is super young, on a team friendly deal, and has prior success in oh I don't know….THE NFL.
The Browns may have reached with Denzel Ward, but he was the best Corner in the draft per many outlets.  I haven't watched this kid play much, but multiple reports say that Ward is one of very few College corners who plays man-to-man.  That is 100% exactly what the Browns need.  The past few years the Browns have trotted out nothing but JAGS in the secondary, and people are still going to bitch?   Would you prefer Tramon Williams? No? Johnson Bademosi anyone? Nah, you'd rather have Buster Skrine. Give me a break. I'll leave you with Defensive Coordinator, Gregg Williams statement on the pick.  This comes in Josh Edwards Orange and Brown Report Article explaining the pick.
"Ward. The reason is our need for a press cover cornerback. Denzel probably plays that position as well as anyone I've seen in college football in some time. We probably play the most press of any team in the league. There's another reason. I've got a video of 28 snaps of Myles Garrett pass-rushes last year where he gets within two steps or less of the quarterback when the ball comes out. Basically, we aren't covering long enough to let him get to the quarterback. Myles and others—especially [defensive end] Emmanuel Ogbah—will get more chances because of Denzel." Ogbah, Williams said, was a major reason why the Browns went Ward over Chubb. "Ogbah's a rising star in this league," Williams said. "He's got a chance to be Chubb." High praise"  
Couldn't have said it better myself, Gregg.  Come get some baby!
A full breakdown of the rest of the picks can be found here.   I frankly don't care about the picks outside of 1 and 4.  I wanted the Browns to identify their guy, and select him at 1.  They did that with Baker.  Now we wait for the new shitheads to arrive, and hit the field.  Go Browns!