Believe it or not, yesterday was the NHL trade deadline.  Unbelievable that we are already staring down the barrel of the NHL stretch run.  Throughout the course of the year a few teams have  separated themselves from the pack as Stanley Cup Contenders, and old powers are finding themselves "blowing it up" as the playoffs are likely out of reach.
Here is where we sit coming down the stretch.  The biggest takeaway for myself personally is the fact the Original Six is a disaster.  Two of them are in dead last in their respective divisions.  After being a cup contender for the past 5-7 years, the Rangers have hit rock bottom.  This year was the year Jeff Gorton and Glen Sather finally decided it was time to start re-tooling.
This brings us to the first of many big moves of the trade deadline:
This trade was completed last Monday between the Bruins and Rangers.  Not a major blockbuster by any means, but the message was clear.  The Bruins would be adding pieces for a playoff run, and the Rangers would begin to sell off what they can for picks, and young assets.
As a Bruins fan I am somewhat indifferent regarding this trade.  Nick Holden sucks.  Plain and simple.  I have nightmares of Holden giving away multiple games during the 2017 playoffs.  Brutal giveaway after brutal giveaway.   He's a depth Defenseman, who isn't a fucking slug, so he can skate and move the puck fairly well.  He would need sheltered minutes, meaning playing favorable match-ups, Offensive Zone starts, etc.  We saw last year the Bruins ran out of gas in the postseason largely due to injuries.  They were down to their 8th-9th Defenseman, and Tommy Cross was playing meaningful playoff minutes.  Holden would be an upgrade in a situation like that.
To Rob O'Gara.  I really liked Rob, and was certainly not too pleased to see him go.  The Rangers are getting a solid Defenseman that should develop into an NHL regular.  He's had a few cups of coffee with the Bruins, but was mostly a mainstay in Providence.  He's solid.  Nothing flashy with O'Gara, he's going to block shots, kill penalties, and play physical.  A valuable piece for any NHL should he develop properly.
The Bruins were not even close to being done making moves to bolster their depth, and free up roster space.
Wednesday saw Donny Sweeney free up some cap space by trading Frank Vatrano.  It was time to move on from the UMass product.  Vatrano stormed onto the scene scoring 36 goals in his first 36 AHL games in 2015-2016.  That goal scoring touch never translated to the NHL level.  Frankie needs a bunch of time and space to pick his spot, and you're just not getting that regularly in the NHL.  He's still got a rocket shot, and decent skating ability.  He's pretty "meh" in every other facet of the game.  The fact that he wasn't traded for a conditional 7th or 6th round pick is beyond me.  Florida just handing out 3 round picks like candy.  Donny managed to regain a 3rd after sending one away for Holden.  Frankie will get a shot to play a regular shift down in Florida, as he just wasn't good enough to crack the Bruins lineup this year.  We'll see if a fresh start is what was needed.
Coming off a brutal loss on Saturday, the Bruins were still not done adding to their roster.
Finally to the big one.  Don Sweeney pushed all of chips in and acquired veteran Power Forward, Rick Nash.  Nash is a big guy standing at 6'4, 220 lbs.  He will slot in on the Bruins second line centered by David Krejci.  This is a big move for the Bruins, and Rangers equally.  The Rangers off-loaded an aging veteran piece for assets.  They get back a roster player who could contribute right away in Spooner, and gain an additional 1st round pick.  The prospect is what it is.  Lindgren was more or less the 6th best Defense Prospect the B's had.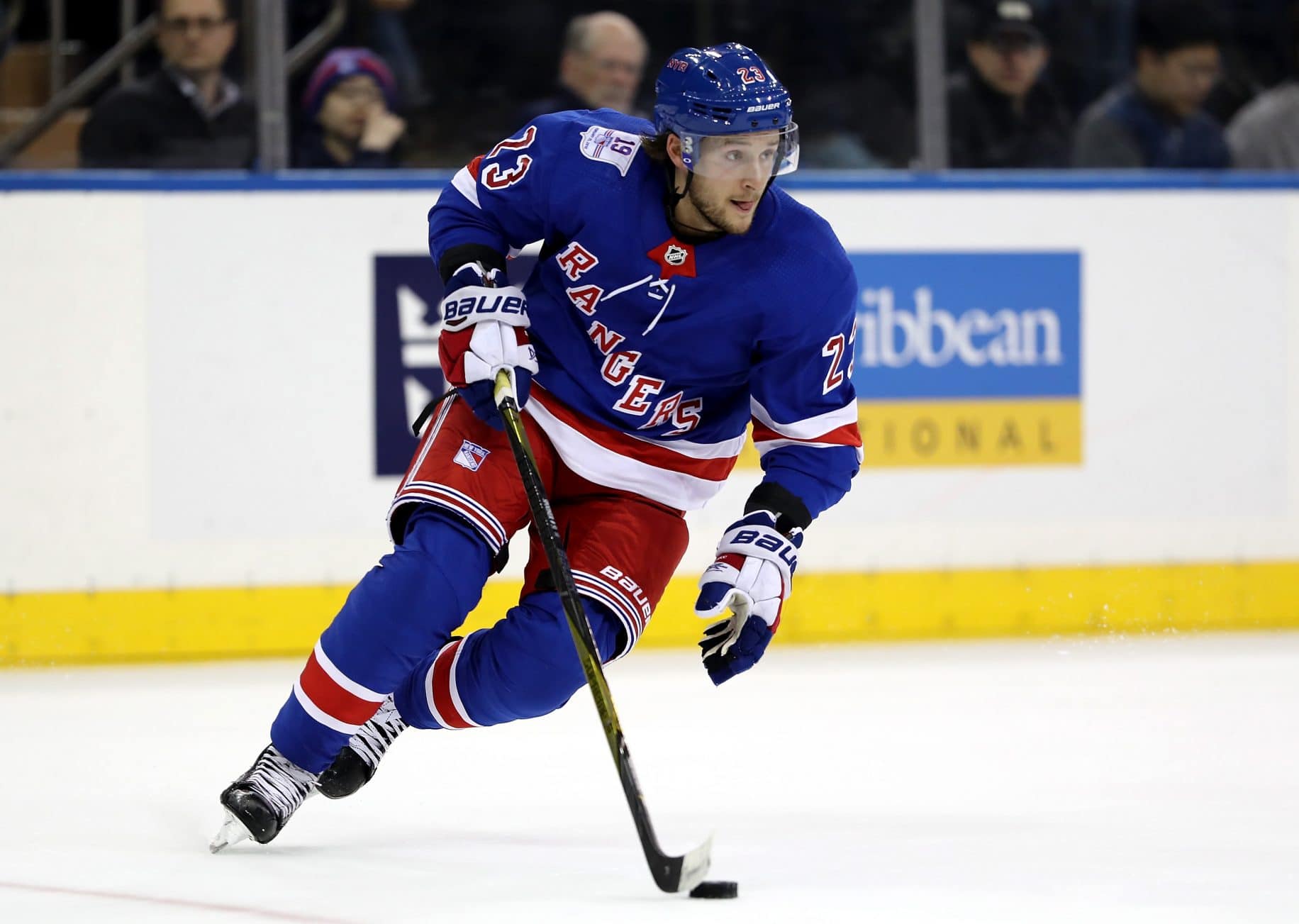 The Bruins add a guy that can bolster their top 6.  One of the few glaring holes on this team was Krejci's wing.  Spooner was slotting in there, but he is a natural center.  Spooner had games where he looked fine playing the wing and would mesh well with Krejci.  Other nights he couldn't care less, and was invisible.  Missing a chunk of time at the beginning of the year, Spoons has amassed 9 goals, 16 assists, and 25 points so far this season.
Rick Nash is a former perennial 30 goal scorer, who is starting to show his age.  The 33 year old is on the final year of his contract, and his point totals have slowly declined the past couple of years.  While he's not leading the league scoring 41 goals anymore, he will still provide much needed secondary scoring.  Hopefully playing for his last NHL contract, and a shot at the cup will motivate Nash.
Now on to deadline day itself.  There were a lot of deals made towards the final the hour.  I am not going to breakdown each one, but I thought I would highlight the most important ones.  A full list of deadline day transactions can be found here.
First and foremost the Ryan McDonagh trade.  The Rangers continued their fire sale by shipping off their team captain to Tampa Bay.
This trade right here settles the balance of power in the Eastern Conference.  While the Bruins were knocking at the door, and adding Rick Nash, the Lightning decided to drag their nuts across Sweeney's forehead.  Adding Ryan McDonagh is just, well it's just unfair.  The Lightning's Top 4 Defeseman are: Norris Trophy Candidate Victor Hedman, Rookie of year Candidate Mikhail Sergachev, and ole' reliable Anton Stralman.  That is far and away the best D-corps in the Eastern Conference, and will likely bolster their chances of landing the number 1 seed.
The Rangers did fairly well in the return.  Namestnikov is a young skilled forward, who is NHL ready.  He's got 44 points so far this year, posting 20 goals, and 24 assists.  The two prospects (Howden, Hajek) are solid, and by all accounts seen as B/B+ prospects.  This was a fair haul for McDonagh on his own, and I am still scratching my head as to why J.T. Miller was involved.  The Rangers tossed him in there for free.  Miller is a young gritty forward who is fast, and can play both Wing and Center.  With 13 goals, and 27 assists on the year, the Rangers basically sold off Miller a 40 point guy for free.  Miller will be a valuable depth piece for the Cup run.
To another Original Six City we go! The first big-ish trade of the day came from two divisional rivals in the Central Division.
Sitting in a similar position as the New York Rangers, the Blackhawks are beginning to sell off pieces.  Bad contracts galore in Chicago.  It will be harder to blow it up there versus New York largely because of albatross contract after albatross contract.  Familiar names like Brent Seabrook, Duncan Keith, and Jonathen Toews have immovable contracts.  Which cannot be said for the assets the Rangers traded away.  Even so, the Hawks were able to move a piece to Nashville.
Ryan Hartman was sent to Nashville for two draft picks, and Victor Ejdsell.  Edjsell is a prospect playing over in the Swedish Elite League.  He is projected to have a solid NHL future ahead of himself.  Obviously the main prize here for Chicago is the 1st round pick.  Stan Bowman had dealt away prospects and picks chasing down a 4th Stanley Cup, and fell short.  Similar to the Bruins, the Blackhawks will have to, "rebuild on the fly".  This would mean acquiring any picks and prospects you can for expiring contracts, while keeping the main core in place.
From Nashville's perspective, I guess it's a solid deal?  Hartman is having a down year this year.  In 2016-17 he finished the season with 19 goals, 12 assists,  and 31 points.  So far through 57 games  he's got 8 goals, 17 assists, and 25 points.  I certainly wouldn't be shelling out a 1st round pick for him.  He's a solid depth scorer only in his second full NHL season, so there is time to develop.  To go with the ability to score, Hartman brings an edge to his game.  He plays the agitator role, and we all know how crucial those guys can be come playoff time.
Once the Hartman trade went through, another Central Division rival was making a bit of a surprising move:
This one came as a bit of a shocker, as the Blues are only 2 points out of the final Wild Card spot in the West.  Two years in a row the Blues were on the outside of the playoff picture at the deadline, and sold off a major piece.  In 2017 it was Kevin Shattenkirk to the Capitals, this year Paul Stastny to Winnipeg.
From a Jets perspective I like the player they acquired.  They are looking to make a run, and wanted shore up their center depth.  Stastny is perfect for them.  They have the game's most unnoticed superstars in Mark Scheifele, Bryan Little, and now Paul Stastny as their top 3 centers.  Not bad at all.  Stastny is a Center in the Patrice Bergeron mold.  He's good in the face-off circle, defensively, and can score when needed.  He's not nearly as good as Bergy offensively, defensively, or in the face-off circle, but he will be a quality veteran piece for a team that has made the playoffs once since 2012.   I would NOT have given up a first round pick for Stastny.  While he is a good player, a first plus a prospect is a high price to pay.  By all accounts, Erik Foley is a highly rated prospect at the NCAA level this season.  For all the big guns traded these past few days, Stastny was the most surprising by far, and will be interesting to see how he fits in with the Jets.
Moving further out West, Las Vegas made it's first ever Trade Deadline Day move:
This trade will likely get a shit ton of love in the Media, mostly because Vegas is the leagues darling.  Vegas is sitting at the top of the Pacific Division for reasons that cannot be explained.  When you get this far you kinda have to, "go for it".  I understand that and all, but this takes the cake as the worst trade of the deadline.
Tatar is a good player, who up until this year was a regular 50-60 point getter.  This year his numbers have declined, as Detroit sucks.  This year he has a measly 16 goals, 12 assists, for 28 points total.  There is absolutely no reason to be shelling out a 1st, 2nd, and 3rd round picks.  As a team that is approaching its second draft EVER, it'd probably be wise to hang on to draft picks, no? Tatar will give Vegas some more pop for sure, as that forward group is bone dry in terms of pure goal scoring.
This is yet another Original Six Franchise attempting to rebuild, and Detroit got a HAUL.  They are a team that prides itself of drafting and developing talent, so those three picks will come up huge when re-stocking the cupboard.
Late in the day, another Pacific Division team was selling off an expiring contract:
Edmonton is now officially out of the playoff race, which is just fantastic.  A team that has drafted 1st overall 3 times in the past 10 years.  The latest being Connor McDavid the NHL's darling boy.  Last year Edmonton made a run into the second round of the playoffs. They were actually considered a favorite to be hoisting Lord Stanley in June.  Instead, this man…
ruined any chance Edmonton had at building a playoff contender.  First, he traded Taylor Hall for Adam Larsson.  Hall was the number 1 pick of the 2011 entry draft.  He's now a major contributor on Devils playoff team.  Larsson is a solid top 4 Dman, but Taylor Hall is an elite goal scorer.  Who needs those Chia?  He traded Matthew Barzal (Rookie of the Year Candidate) for Griffin Reinhart, a Defenseman for the Chicago Wolves in the AHL.  He handed out a 6 year, $7 million dollar contract to 29 year old Milan Lucic.  A contract that will hamper Edmonton until it expires.  He signed center, Leon Draisaitl to an 8 year $68 million dollar contract worth $8.5 million per year. Now, Draisaitl is damn good.  Someday he will be worth every penny of that contract, but this was his FIRST contract coming off his rookie deal.  Teams almost always opt for a bridge contract, and then dish out the cash.  Chia said fuck it, and handed ALL the money to Draisaitl.  But wait!  There's more, Chiarelli signed Connor McDavid to an 8 year $100 million dollar contract extension.  This won't kick in until 2019, but once it does the annual cap hit will be $13.5 million.  Let me preface this by saying Connor McDavid is worth every penny of that contract.  Has Chiarelli not learned from his time in Boston?  Has he not seen what the Brent Seabrook, Patrick Kane, and Jonathan Toews contracts have done to Chicago?  They cannot afford to keep their good secondary scorers/role players because they are so salary cap strapped. Edmonton is going backwards fast, they should probably be considering canning Chiarelli by now.
Anyway, enough ranting about Chiarelli.  Edmonton sent an expiring contract in Patrick Maroon to New Jersey in exchange for a prospect, and 3rd round pick.  New Jersey gets a big bodied goal scorer who can play anywhere in your lineup.  Maroon is coming off two solid years, but is likely a product of Connor McDavid.  Last year he amassed 27 goals, a career high by a wide margin.  New Jersey essentially gave up nothing for him, as by all accounts the prospect included (J.D. Dudek) would not even be signed to a rookie contract by the Devils.  Maroon's point total is not where it was last year, bit he still has 14 goals, 16 assists, and 30 total points.  Head scratching move from the Bald Bandit Chiarelli.
The last real big move came from San Jose:
Buffalo traded Evander Kane to the San Jose Sharks for a 2019 1st round pick, 2020 2nd round pick, and Dan O'Regan an NCAA prospect.  Solid trade for both teams involved.  It was time for the Sabres to move on from Kane.  On paper, Buffalo has a team that should be competing with Boston and Toronto for the Atlantic division.  They are the exact opposite.  They spend almost every season in the cellar, even with Jack Eichel, Ryan O'Rielly, Kyle Okposo, and Rasmus Ristolainen.  Buffalo needed to unload an expiring contract, as they were likely not going to re-sign Kane.
San Jose adds an elite forward to their top 6 for the stretch run.  Kane is a polarizing player, mostly due to off the ice issues, but he's still an elite talent.  Sitting at 40 points, he will be a nice goal scorer to take passes from Jumbo Joe Thornton.  San Jose did not have to give up their 2018 first, which should be considered a win.  Both teams make out well with this trade.
The biggest story was Ottawa's Erik Karlsson.  A superstar Defenseman in Ottawa.  The Senators explored trading him to Vegas, Washington, and a few other places.  Nothing worked out, and Ottawa will attempt to extend him before the draft in June.  I'm sure Senator fans can breathe a sigh of relief. Karlsson being traded would have sent major shockwaves throughout the league. Seems like trading for him mid-season would be stupid, because he completely changes the dynamic of that particular team so much, it's probably be more beneficial to wait for the draft.
Overall it was an exciting day/week. Most of the moves were reported in the final hour, but boy was it worth it.  NHL trade deadline, and July 1st Free Agency are my two favorite days of each calendar year. Here's why. As always, Lets go Bruins!!