The Montreal Canadiens were dealt a crushing blow last Thursday, as news was made public that Shea Weber would be missing the next 5-6 months due to knee, and ankle surgeries.  While it sucks to see one of the games greats go down injured, I am more than thrilled with the damage it does to the Montreal Canadiens.  I would like to think that this injury would make the Habs a lock to draft number 1 overall next year.   With Shea Weber in the lineup they still had a very good chance to finish with the number 1 pick, but this news should seal the deal.
Another year, and another disaster of an off-season for the Bleu Blanc en Rouge.  Slowly but surely, they tore down a Stanley Cup contending team.  It all started in 2016, when rumblings of P.K. Subban being shopped around a bit.  Of course this news was immediately shut down by General Manager Marc Bergevin.  How could they ever trade the face of the franchise?  The man who helped bring the Habs back into contention, the same man who donated over $10 million dollars to build a new Children's Hospital in Montreal. That didn't stop Marc Bergevin from executing one of the worst trades of all time.
The first domino in the Habs demise.  This isn't a terrible trade in terms of value.  Subban and Weber are pretty much even on the ice.  Subban has a slight edge, as he is a better overall skater than Weber.  The issue here is age.  P.K. is currently only 29, and around 27 at the time of this trade.  Weber is now 32, and was 30 at the time of the trade.  Subban has a $9 million dollar cap hit until 2022, and Weber has a $7.8 million dollar cap hit until 2026.  Give me the contract that expires in 2022, and give me the younger player.  It is the fact that he was the face of the Montreal Canadiens.  He was the face of hockey's most famous (horrid, vile, disgusting, putrid) franchise.  How could you possibly trade this guy?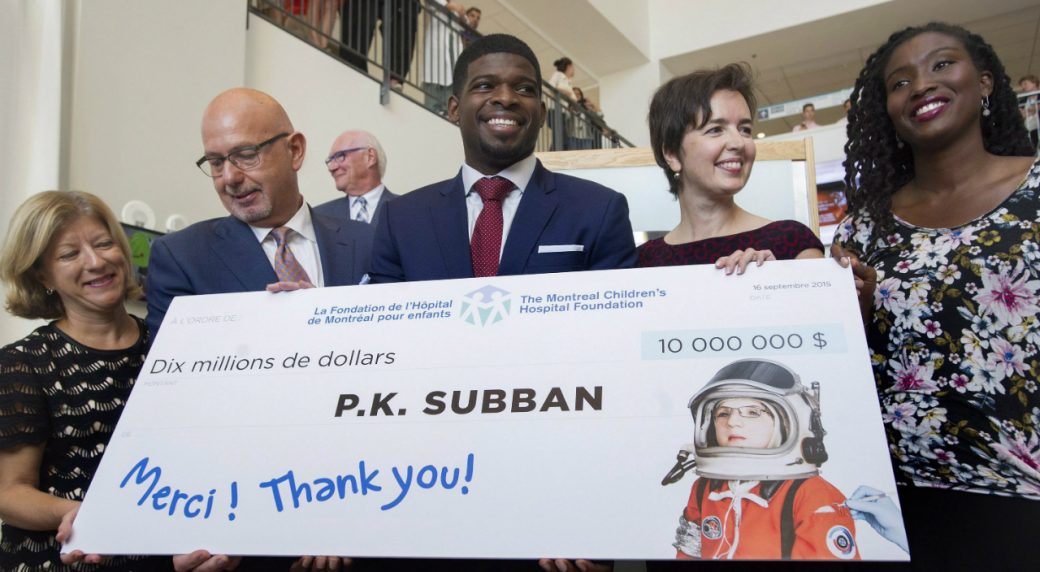 The Weber for Subban trade is such a head-scratcher.  There was absolutely no need for this trade, because if it works out, it is a lateral move at best.  It hasn't worked out at all for Weber, who only played in 26 regular season games in 2018.  He will miss a significant portion of 2018-19 as well.  To this day, nobody can pinpoint a specific reason as to why P.K. Subban was traded from Montreal.
Just a few weeks later that same offseason, the Habs decided they wanted to make themselves even worse.
Andrew Shaw had spent five seasons as a member of the otherworldly Chicago Blackhawks.  He was a valuable piece to the puzzle for Joel Quenneville, as Shaw brought toughness, attitude, and secondary scoring.  He was a shithead on the ice, but he showed he could pot a few goals at timely occasions.
Not horrible numbers for a guy who was seen more as an agitator/pest, but Montreal went way over the top trading not one, but two second round picks for him.  To make matters worse, shortly after this trade:
Marc Bergevin decided to reward Andrew Shaw with a 6 year, $15 million dollar extension just minutes after the trade.  Andrew Shaw is a valuable player, he is one of those guys that is needed on almost every NHL team.  The dude can hit, is willing to fight when needed, and scores goals.  All of that said, a six year contract at $3.9 million dollars per season is just asinine.  This contract is still hurting the Habitants to this day, as there has been a slow decline in production for Shaw.   Fewer games played, and lower point totals.  With there being 4 years left on his deal, Shaw is virtually immovable.
All was somewhat forgiven in 2016-17, as the Habs still managed to make the postseason.  Hell, they won the Atlantic Division, finishing with 103 points.  Mostly riding Carey Price, and they were bounced in six games by the New York Rangers.  Despite the horrendous Subban trade, the Habs were still a playoff team, and had recently hired a one-time Stanley Cup winning Head Coach in Claude Julien.
The Montreal Canadiens then decided to dig themselves an even deeper hole.  Despite 103 points and winning the Atlantic Division, it was obvious the Habs needed Center Depth.  What did Marc Bergevin do?  Well, he traded for a winger of course! He's French-Canadian at least!
Just another brutal trade from Marc Bergevin.  Jonathan Drouin is a solid goal scorer, but he is not a natural center.  Despite what the Canadiens tell you, he's a left-winger.  He signed a Six Year contract extension just minutes after the deal was completed.  Turns out, Drouin really kind of sucks out of his natural position.  In 2016-17 with the Tampa Bay Lightning, Drouin had a career year.  In 73 games, he finished with 21 goals, 32 assists, for 53 total points.  This year?  Drouin's productivity dropped, as he accumulated 13 goals, 33 assists, and 46 points.  This drop is somewhat significant, as he managed to play four more games in 2018, playing in 77 total contests.
The piece's the Canadiens gave up?  Well, Mikhail Sergachev finished 2018 looking like a future top pairing Defenseman.  While, he wasn't one of the three finalists for the Calder Trophy (Rookie of the Year), Sergachev dazzled much like Boston's Charlie McAvoy.
When it was all said and done, Montreal was left without any lethal weapons on offense, a slow aging defense, and a good goalie.  Sweet!  Not mentioned earlier, but after their 2017 first round exit, Montreal let longtime defensive stalwart, Andrei Markov walk to the KHL after 16 seasons in Montreal.  They also failed to re-sign troubled forward, Alex Radulov after his stellar 2017 season.  While he only played 1 season in Montreal, he was by far their most lethal scoring winger.
To top it off, to start off the 2018 Off-Season,  Montreal traded away its best Center!
Good lord, what an abortion of a trade.  Alex Galchenyuk was drafted 3rd overall in the 2012 NHL Draft by Montreal.  Throughout his time there, Chucky was always scrutinized by the organization, and fans alike.  He was a very talented player, with potential to become the Habs Number 1 Center.  Problem with that is, the Canadiens refused to play him at Center.  He was forced to play on the wing for Michel Therrien, and Claude Julien.  After posting 30 goals, 26 assists, and 56 points in 2015-2016, he has not been the same.
The Habs decided to trade him for yet another winger in Max Domi.  Domi was picked 12th overall in the 2013 NHL Draft.  After posting 18 goals, 34 assists, and 52 points in his rookie year, Domi hasn't surpassed 9 goals in either of the past two seasons.  Domi scored 9 goals in 2017-18, 4 of which were empty netters.  The most Center desperate team traded it's best Center option, for a winger who can't score more than 9 goals.  Ole indeed.
Now it's all about acquiring picks and prospects for whatever they might have of value.  Look for Max Pacioretty to be traded in the near future.  Patches will be a UFA by the end of the season, and the Habs will either be re-signing him or trading him by the trade deadline.
This second point is unlikely, but I will try and make it work.  I would think if the Habs are going to trade away Patches to rebuild, Carey Price would be on the block.  Now, another huge misstep made by Marc Bergevin was the contract extension he handed to Price.  Last Off-Season saw Price sign an 8 year, $84 million dollar contract extension.  That is good for $10.5 million dollars a year.  YIKES.  Carey Price is a great goalie, but no goalie is worth that kind of money.  Ever.
So, let us all bask in, and enjoy the demise of Les Habitants.  I am not satisfied with how bad they are.  I need more.  I need the Canadiens to lose so much, they are relocated.  Fuck this sorry fan-base, team, and everything that goes into it. You all SUCK, and you have been one of the worst teams in the NHL since 1993.   Enjoy being the laughingstock of the NHL for the foreseeable future, because I sure will.
Ole Ole Ole….