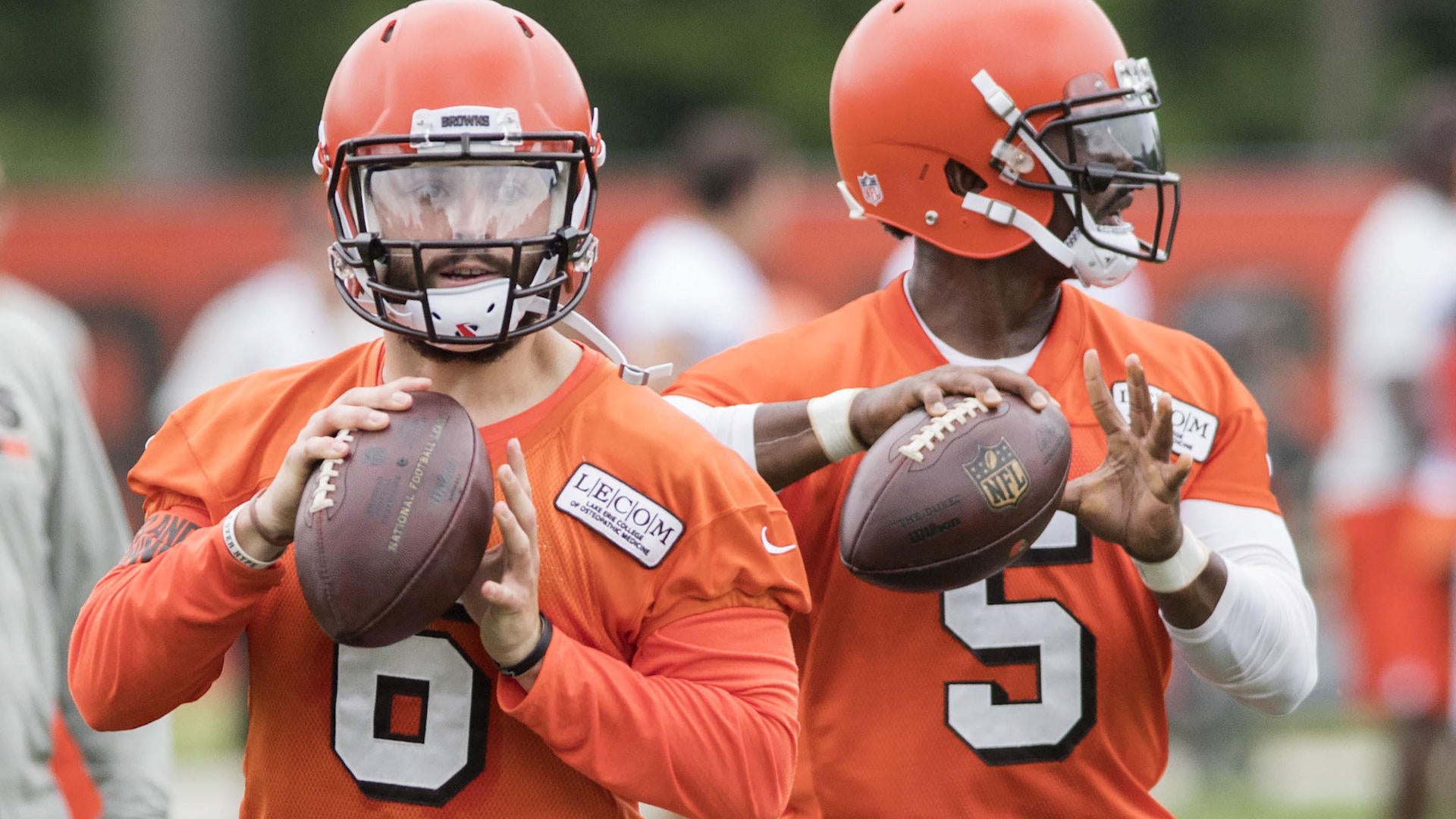 I can't wait anymore.  I just can't.  We are exactly 6 days away from the Cleveland Browns reporting to Training Camp.  I for one, am counting down the very seconds down until they hit the field.  This season is a lot like the others.  Optimism is through the roof, and I am telling others I've never felt better about them going into the season.  Obviously, that is a lie.  It's the same every year.  Every year is FINALLY the year where it appears the Cleveland Browns will be fielding a competitive roster.   However, this time saying it doesn't seem so crazy.
A lot of the Browns Off-season activity has been discussed ad nauseam, but lets take a look at some of the pro-level acquisitions (Free Agents/Trades):
Tyrod Taylor-QB
Jarvis Landry-WR
E.J. Gaines-CB
Mychal Kendricks-LB
Donald Stephenson-OL* (he already retired  ¯\_(ツ)_/¯ )
Darren Fells-TE
TJ Carrie-CB
Carlos Hyde-RB
Terrence Mitchel-CB
Chris Hubbard-OL
Chris Smith-DE
A nice haul of experienced players to fill in where JAGS had started previously.  FINALLY the Browns added proven NFL talent, and got rid of the absolute stiffs that inhabited starting spots previously.  After adding talent at the Pro level, the Browns turned to the NFL draft to strengthen even further:
Baker Mayfield-QB
Denzel Ward-CB
Austin Corbett-OL
Nick Chubb-RB
Chad Thomas-DE
Antonio Callaway-WR
Genard Avery-LB
Damion Rantley-WR
Simeon Thomas-CB
All in all there will be 20 brand spanking new faces in Berea next week.  Think about that, the Browns added 20 brand new players to the roster, just 6 players away from exactly half of the 53 man roster.  This doesn't include un-drafted Free Agents, or camp invites. John Dorsey, Eliot Wolf, and Alonzo Highsmith have done some serious work to get this thing going. Will it work this time? We are about to find out.
Who am I most excited for at each position group, and who will I be watching closely during preseason?
QB: Tyrod Taylor
No, not Baker Mayfield. Despite picking Mayfield number 1 overall, I am still excited to see what my man, Tyrod can do. We are all well aware Taylor lead the lowly Buffalo Bills to the playoffs for the first time in nearly 20 years this past season, is a first in last out hard working SOB, and he simply doesn't turn the football over. Tyrod's got unanimously blown by teammates, coaches, and media members since his arrival in March.
It's nice to see praise for a Quarterback on the Cleveland Browns Roster. It's a rare phenomena. So no, I am not most excited to see Baker. Tyrod is a competent Quarterback, something the team was lacking. It was obvious to the vast majority of beat writers that OTA's and Minicamp were the most crisp practices from a QB they had seen (that's not saying much I know). Looking forward to seeing him sling the rock to a multitude of weapons, weapons he has not had in previous seasons. Team T-Mobile, baby.
OL: Austin Corbett (Guard, Tackle)
Picked at the top of the second round, Austin Corbett comes in from the University of Nevada. Current Browns guard, Joel Bitonio's alma mater. The two played together for a brief spell, until Bitonio was drafted. If any of Joel rubbed off on this kid, than we got a gem.
The most intriguing aspect of Corbett is we don't really have any idea where he will ply. He is seen more as interior lineman, but hasn't been ruled out as Joe Thomas' replacement at left tackle. He is one of many options to fill that void, and it will be interesting to see where he plays week 1.
RB: Nick Chubb
Nick Chubb was selected at the top of the second round after the Browns already selected Corbett. Nick Chubb was an absolute monster in College until significant knee and leg injuries sidelined him. He still managed a stellar college career, finishing second, and passing Todd Gurley on Georgia's all-time rushing list. He also surpassed Kevin Faulk and Darren McFadden for second on the SEC's all time rushing list.
This kid can do it all, and I am chomping at the bit to see how he is utilized by Todd Haley's offense. At 5'7 227, Chubb has a frame that suits running inside the tackles. 227 lbs is massive for a dude who's only 5'7. Early on I expect to see Chubb in short yardage situations. Over time I can see Chubb being the head honcho, but to start the year expect Carols Hyde to be the top back.
WR: Josh Gordon
Since being drafted in 2013 Josh Gordon has failed to participate in a full Off-Season program with the Browns. It's 2018, and just over a month ago Josh Gordon completed his first full Minicamp with the team. That is just absurd.
Everybody knows what Josh Gordon can do on the football field. Last year, he came back with 5 games to go, and contributed in every one. Josh finished the season with 18 catches, 335 yards, and 1 score. Those look mundane, but for a guy who hadn't played an NFL snap in 2 years, that's fucking good.
This year (knock on wood) we will get to experience a Josh Gordon, who completed the full Off-Season program prior to Training Camp. I can't even imagine what a fully prepared Josh Gordon will be like. The dude dominated stoned to the high heavens, I fear for opposition corners.
TE: David Njoku
Chief David Njoku is coming into his second season, after the Browns traded back into the first round to select him in 2017. He had an average rookie campaign posting, 32 catches, 386 yards, and 4 scores. Not bad, but not lighting up the joint. With how inept the Browns were offensively last season, it's a goddam miracle he did that well.
This dude is a physical freak of nature. Coming out of college, Njoku was seen primarily as a supremely athletic pass-catcher, but extremely raw. Dude can't block for shit, and I could give less of a shit. Chief flashed his ability at times last year, but poor game planning, and shit Quarterback play lead to inconsistent performances.
This season, defenses are going to have to shift the bulk of their coverage to Jarvis Landry, Josh Gordon, Duke Johnson, and many others. In turn, this should leave Chief with favorable matchups. I hope Todd Haley utilizes him like the Patriots utilize Rob Gronkowski. Get this absolute specimen up the seam for chunks of yardage, utilize his overall size and reach in Red Zone, and draw up crafty Tight End screens. Hopefully 2018 will free up the beast in David Njoku.
DL: Emmanuel Ogbah
How could the Browns be so stupid, and pass on drafting Bradley Chubb? Emmanuel Ogbah that's why. Ogbah is coming into his third season, after being drafted in the second round in 2016. Playing opposite Myles Garrett Ogbah was developing into an absolute force. An injury halfway through 2017 shortened his campaign. Until he went down, he was playing at a Pro-Bowl pace. He played in 10 total games registering 4 sacks. In 2016 he played a full 16 game slate, and recorded 5.5 sacks. He was on pace for double digit sacks, and lead the team in Tackles for Loss until he went down.
Looking forward to seeing how Gregg Williams unleashes Ogbah in 2018. Myles Garrett and Emmanuel Ogbah should be a lethal pass rushing combo.
Linebacker: Mychal Kendricks
Released by the Eagles in May, Kendrick's signed with the Browns in June. Kendrick's had requested a trade from the Super Bowl champions, due to a lack of playing time. Welcome aboard my man, we suck you'll play an ass ton.
In all seriousness, Kendrick's will be an interesting addition to the Browns defense. He played primarily Outside Linebacker in Philly, but the Browns are trying him out as a Middle Linebacker. Gregg Williams had this to say about the signing,
"Kendricks fits into that role. He is a multiple-position player. He is able to play inside and outside. He is able to play on the line of scrimmage, off of the line of scrimmage, and he will fit in with the packaging that we do."
Linebacker quickly became an extremely deep position for the Browns. It will be interesting to see who loses playing time with his addition. In the middle Christian Kirksey and Joe Schoebert recorded the bulk of snaps. Schoebert was the Browns lone Pro-Bowl representative last season, and it was only his second season. Kirksey has been a staple in the middle for the past 4 years. He hasn't made any Pro-Bowl's but he is a team Captain, and one of few more established Browns. It'll be interesting to see how Kendrick's play impacts this group. It never hurts to have depth, but who knows, maybe one has to be dealt down the line?
Secondary: Denzel Ward
Denzel Ward was the Browns second top 5 selection this year, as he was selected 4th overall. Primarily a man-cover corner, Denzel looks to be a future Number 1 shut-down corner. Generally, at least in my opinion, corner is the second hardest position to develop in Football. Quarterbacks are faster in every aspect of the game, and the Receivers are as well. All of this doesn't seem to phase the kid, as he turned quite a few heads in Minicamp:
The dude was playing with the One's by the time camp ended. I doubt he is ready to be playing full-time with the starters, but it's good to see coaches noticed his efforts, and gave him some reps with the One's for it. I still think E.J. Gaines and TJ Carrie will still get first crack at first team reps, but who knows? A good Training Camp could see Denzel a day 1 starter.
With so many exciting players coming in the door from March until June, HBO picked the Browns to be featured on, Hard Knocks. An inside/unfiltered look into NFL Training Camp.
With a cast of characters like Gordon, Landry, Garrett, Peppers, Chief Njoku, and many more, this series should be very good. Not to mention we've got that shit for brains, Hue Jackson running the show. He's bound to do something stupid, say something stupid, or both. Looking forward to the meme's and gif's that come from these 5 hour long episodes.
So, on July 26th, all Veterans will report to Berea for the first practice of Training Camp. We will finally begin to get some answers as to whether or not this is a mirage or not. I certainly hope it is. I mean, there are so many good football players on the team now, I can't help but think they should be half-decent. Not predicting win totals, but with this roster, they should be drafting in the teens in 2019. That would be a fair and modest goal. Some of the players are calling playoffs, but yeah I don't think that'll happen. Sure hope I'm wrong. I hope that 2018 Football season will have at least a few good moments. All I really ask is for it to not completely suck. I don't think I'm out of bounds asking for that.
Go Browns!