Well, this just sucks.  Last week we were in the middle of Browns Free Agency, and things were looking exciting.  Everything was swell up until last Wednesday, when Joe Thomas announced his retirement.  Joe spent all of his 11 seasons as a member of the Cleveland Browns.  It is a retirement that is much deserved, it just sucks because the Browns never won a few games for their constant stalwart.
Lets make one thing clear: Joe Thomas is the best Left Tackle the game has ever seen.  Joe was drafted third overall in 2007 NFL by the Browns.  From that point on, Joe played a whopping 10,363 consecutive offensive snaps for the team that drafted him.  This is a record that may never be broken.  For 10,363 of those Snaps Joe played at an elite level.  Eventually injuries took a toll.
I mean, that is just stupid.  30…only 30 freaking sacks!  What a beast on the football field this man was.  The Cleveland Browns may have sucked for my whole life, but for 11 seasons at least we had one truly elite football player.    Now, bear with me for a second while I attempt to locate Left Tackle highlights on YouTube…
Probably the most impressive stat of Joe's illustrious career:
Just a brutal stat right there, especially for players, coaches,  and front office executives associated with the Cleveland Browns.  All of these numbers, and statistics add up to the greatest Left Tackle to ever play.  Joe will be a first ballot Hall of Famer once he comes up for voting, which will be in about 5 years. Hopefully one day, we'll be able to look back at 2007-2017 and laugh along side Joe.  He's all the fans had during that time.  Coaches changed, Quarterbacks busted, and Front Offices' were fired.   Joe Thomas was always there.
The Browns should be disgusted at themselves.  How can you not put together a winning team for Joe Thomas?  Some loaded offensive lines went to waste here, and that really fucking hurts.  What hurts more is Joe never got to experience winning.  I will say this, and I am sure many others will echo it: There is no one more deserving of winning some football games than Joe Thomas.  It was great to have one elite player be a constant for many years, but it hurts to have failed him so miserably.  I would've been devastated if the Browns traded Joe, but looking back at it we definitely should've sent him to the Patriots in 2014 or 2016.
What's next for Joe Thomas?  Whatever the fuck he wants.  The best part about Joe Thomas is his personality.  Well known for his sense of humor on Twitter, Joe has been boosting his presence in the media this year.  As we know, he tore his one of his triceps in week 7 this past season.  This injury famously ended his 10,363 snap streak, but during his new found off-time Joe began to expand his brand.  He did all sorts of interviews with news outlets, sports shows, and even started his own Podcast with ex Browns Receiver, Andrew Hawkins, called the Thomahawk Podcast (Highly recommend).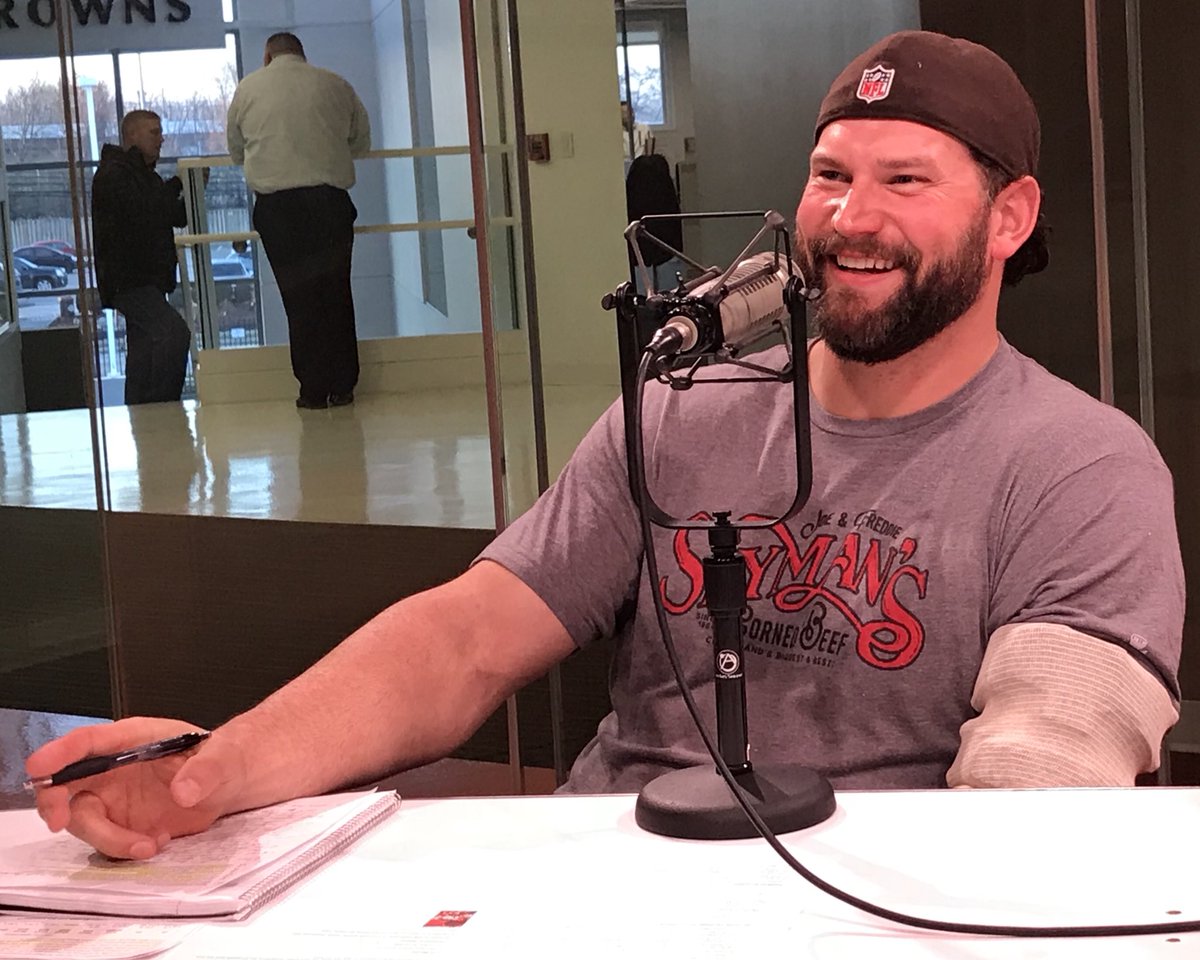 Whatever Joe chooses to do, he will succeed that is one fact I do know.  He has stated that he has interviewed to be an NFL analyst for a few networks, and has more coming in the pipeline.  Not everyone got to see how great Joe Thomas was at Tackle, but many will get to see how smart/entertaining he is.  Hopefully he will be able to fill the large shoes of one, Sergio Dipp.
It's been great to have one nice thing over these past seasons.  Joe never bitched, never called out his teammates, or coaches about the constant losing.  Joe showed up and continued to excel on the field.  Wherever Joe ends up (Canton) he will be a star.  Looking forward to the entertainment and laughs he will bring on MNF, or something similar.  Speaking of jokes he's got some good ones:
#ThankYou73