Well.  How have we gotten here?  How has it gotten this bad?  It's been awhile since I've last written about my beloved Browns.  This year has been extra painful.  The signs of a competitive team were there.  It all came crashing down thanks to Jacoby Brissett and the Indianapolis Colts.  In the second quarter of the Browns week three matchup with Indy, the Colts rattled off 21 unanswered points in the second quarter.  The halftime score was 28-7 Colts.  The Browns were able to make it a game but ultimately ended up falling short, mostly in part to the fact that Hue Jackson is quite simply the worst head coach of all time.  The Browns were mounting a comeback in the second half, slowly chipping away at the game — when this asshole blows all his timeouts prior to the fourth quarter even starting.  They managed to get within one possession, but it was simply too late.  Without any timeouts, Brissett ran out the clock for a 31-28 Colts win.
Week 3 was it.  That was the game that put it all in perspective.  They suck.  Miserably.  At times they look worse than last years 1-15 squad.  The talent is so barren at many crucial positions.
Last week was turmoil to the 10th degree.  The Browns allegedly botched a last minute trade deadline deal for AJ McCarron.  There has been a reported riff between the front office and coaching staff.  It all came to boil when the Patriots traded Jimmy Garappolo to the 49ers.  The Browns wanted him badly, and the coaches were upset that the front office was apparently home unaware of the Jimmy G trade.
Luckily last week was their scheduled bye week after a beatdown in London.  0-8 is where this squad stands.  No end in sight, or is there?
Josh Gordon is back!  The only good news of the season to date. Gordon has been conditionally reinstated, and allowed to participate in team activities.  He's able to hit the practice field on 11/22, and eligible to play by week 12.
Boy do we need a weapon.  A guy who can run the fuck by you, around you, or through you.  Gordon can do it all.  He's just a supreme athlete.  Naturally better than everyone else.
The last time Josh attempted a comeback was in 2016.  He attempted to comeback after missing two seasons due to suspension.  He played in one preseason game — and he made a miraculous catch with Brent Grimes all over him.
After two years of sitting on his ass:
I'm not expecting Josh to return to his 2013 form.  It was that year, in which he looked like a future hall of famer.  However, I do have hope that he can still be very good and contribute.  He has natural gifts, and he's not going to be stoned this time (allegedly).
The Browns will have second year wideout Corey Coleman returning by week 11 to solidify the beat up receiving group.  Lets hope that Njoku, Johnson, Crowell,  Coleman, and Gordon can be true weapons for Kizer.   Kizer has all the ability, and none of the talent around him to succeed.  The group isn't great, but those guys are all weapons.  They should all be able to contribute and carry a portion of the load.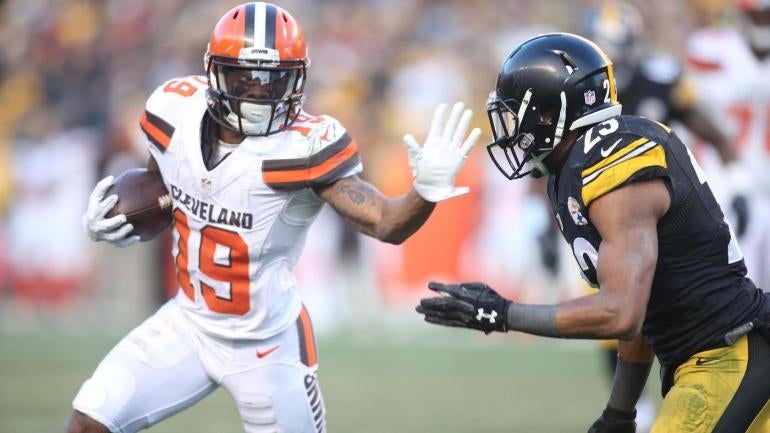 This season has been miserable so far.  8 weeks to go, and a shot to wipe the slate clean.  The Browns will open up the second half against the Lions this week, at Ford Field.  Should be a tough game considering the Lions are coming off a big (not really) win at Lambeau Field.  It'd be great if they could squeak out a couple of wins to end this thing off right, but I won't hold my breath.  The goal is 4.  Get to 4-12 if it all possible.  If not, go 1-15. 2-14, or 0-16 to lock up the first pick and go from there.
Fuck me.